UNMASKING HUNGER
One Year Fighting Hunger + COVID-19 in NYC
2020 - 2021 Annual Impact Report
A Year Unlike Any Before
While March 2020 marks the start of one of the toughest years we've experienced as a city and nation, for me, it also marks a milestone of my own: my start as CEO of Food Bank For New York City. Certainly, I was eager to step into the role, to both lead and learn from my awesome team. But I was even more focused on the gravity of serving a city that was becoming the epicenter of a growing pandemic. Our economy was in trouble, our communities were hurting… our people were desperate. Thankfully, I was joining an organization with a rich history of problem solving that I'd have the privilege of bringing to bear once again in our most challenging time. Challenges are meant to change us, and 2020 certainly did.
When COVID struck, the impact on food insecurity was swift and severe. At the height of it, our Community Kitchen in Harlem was serving 100 new people each day and our member network reported a 91 percent increase in first-time visitors – this is need unlike anything we've ever seen. One year later, I'm both proud and inspired by the response that our organization, our network, and our fellow New Yorkers were able to mount to save our city. Together, we distributed over 100 million meals to our neighbors in need, a new Food Bank record! I'm excited to share more of our impact in this report.
Today, we are all changed. We endured and overcame a grievous challenge… how will we be better for it? At Food Bank, we pledge to mobilize our mission deeper, farther, and smarter than ever before. With your support, the fight against hunger will also be different, and indeed better fought, in the years ahead. And I couldn't be more grateful to have you join us.
With my deepest thanks,

Leslie Gordon
President & CEO
THIS IS OUR CITY. AND OUR STORY.
A year ago, Food Bank found itself supporting a city under siege by the coronavirus pandemic. The 12 months that followed saw devastating loss of life, shuttered businesses and schools, and millions of families struggling to make ends meet for their most basic needs. But even amid this crisis, our fellow New Yorkers showed up and stood with us. Thanks to your unprecedented support, our citywide emergency response distributed more meals than ever before and innovated new ways to safely serve them.
At its worst... we brought our best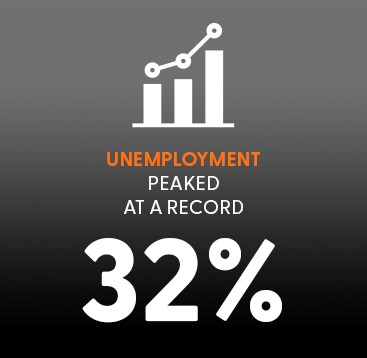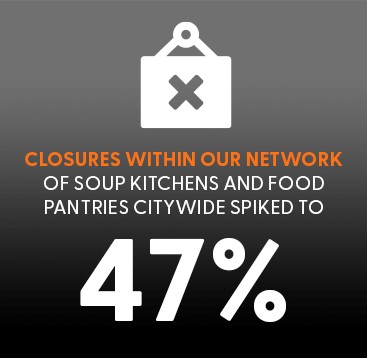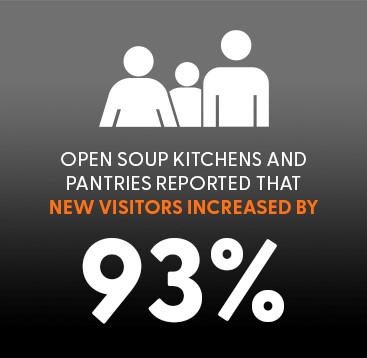 When you see your cabinet empty and you have NOTHING... and you can say, 'I'm going to go to the pantry and get some cans so I can have something to eat'... just knowing you have somewhere to go... I'm SO grateful.

Miguelina Jaquez

Manhattan resident
STRENGTHENING OUR FRONTLINE FORCES
Chronic food insecurity was a problem in NYC before COVID, and now, a new hunger landscape is emerging in its wake. Here is what we're doing to fight it...thanks to your help.
Our emergency food network was under tremendous strain even before NYC became ground-zero for the coronavirus pandemic. As we reported last June, with too few pantries and soup kitchens operating across our city, those that remain routinely serve New Yorkers from more than one borough. The pandemic exacerbated these resource gaps by forcing nearly 40 percent of these sites to close at the height of the outbreak, neither having the space nor bandwidth to safely continue services.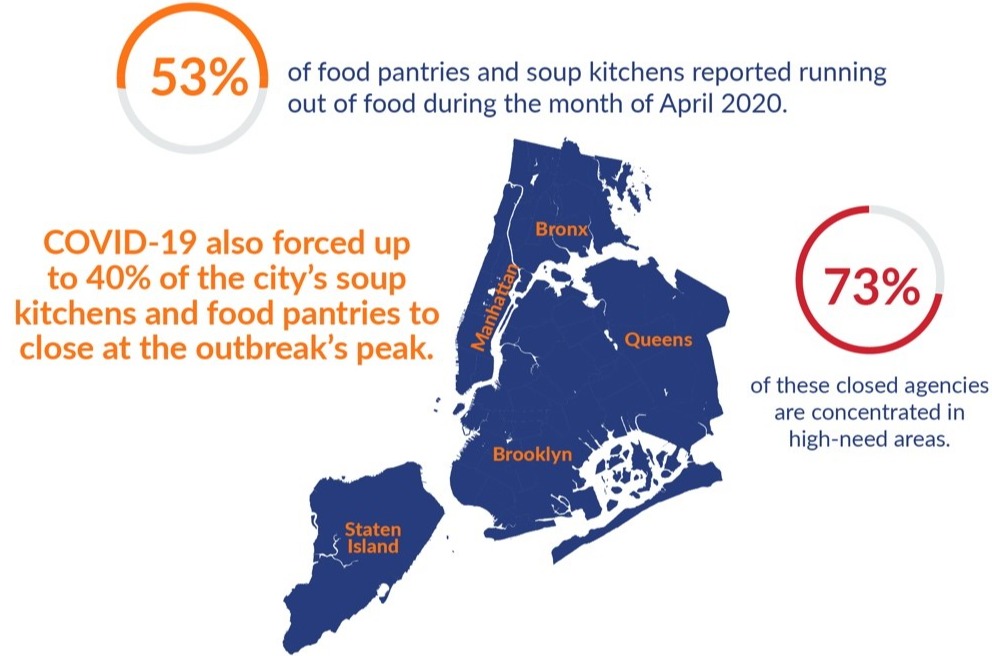 What was clear to us – and to most food banks across the country – was that any solution to the impacts of COVID would need to create sustainable change for our network of food providers fighting hunger at the frontlines. To that end, we implemented an immediate response and a long-term solution.
To get meals where they were most urgently needed, we established Community Response Partners within our network to act as food and resource hubs citywide. We set up these CRPs in neighborhoods where food deserts were quickly emerging due to rampant closures of food assistance sites caused by COVID. Today, we have 22 CRPs operating across all five boroughs – together, they are distributing three times more food than they were the year before.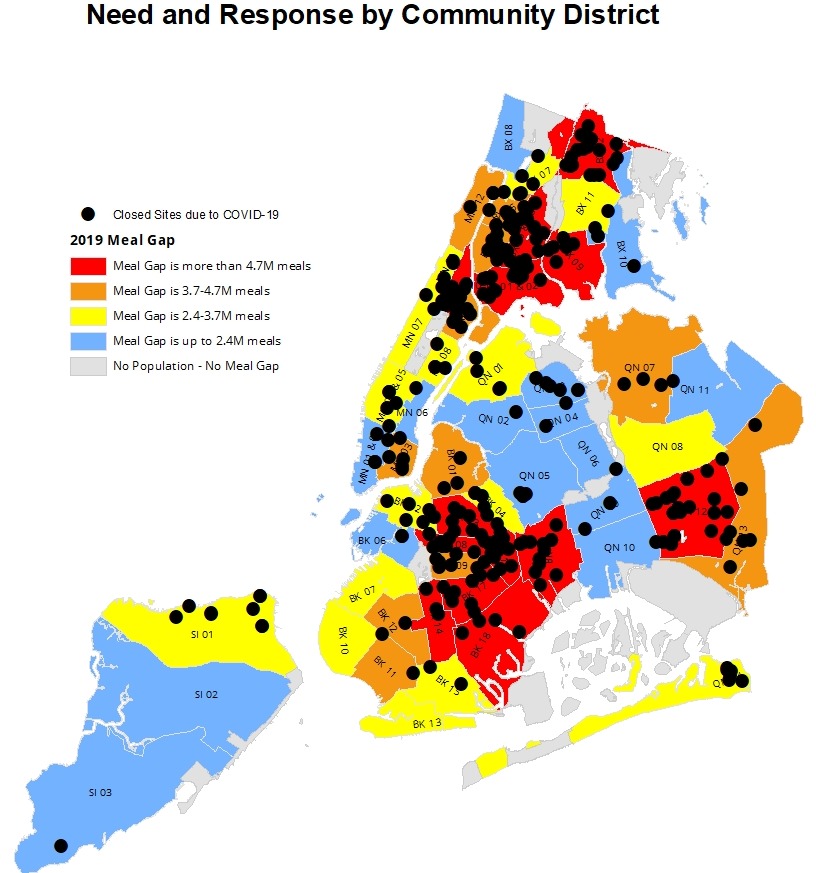 Equipping Our Network for the Ongoing Fight
We also took strategic action to ensure our impact continues well beyond COVID-19. Thanks to the unprecedented generosity of our supporter community, we made a $14 million investment into our member network. These are the pantries, soup kitchens, shelters and schools that activate our mission on the ground daily. This represents one of the largest investments to strengthen our city's emergency food providers in Food Bank's history – only made possible thanks to you!
We applied this investment across five key areas of need. We provided network-wide food grants for ALL of our member agencies so they have more food to distribute to their hurting communities. We provided operational grants to help cover the added overhead and other expenses that come with operating for more hours, over more days. We awarded capacity grants for capital equipment like pallet jacks and fork lifts, for the safe storage and transportation of more food.
We also launched our Mobile Pantry Program to get food to areas where pantries were overwhelmed or non-existent. And we welcomed hospitals into our member network for the first time. Too often, our poorest and hungriest communities are also struggling most with illness – an enormous inequity only worsened by COVID-19. Now these hospitals will receive a steady flow of nutritious food for onsite pantries and pop-up distributions. Learn more about our member network investment in this video.
Thanks to Food Bank For New York City, our patients in central Brooklyn and at Kings County Hospital have been able to get extremely needed food during these extremely difficult times. Every bag of food we give a patient brings a smile, a thank you, and a full belly. There is nothing that makes us feel happier than helping our patients and community.

Dr. Noah Berland

Kings County Hospital
UNITE and CONQUER
Partnership is the cornerstone of Food Bank's mission. As pandemic hunger threatened to crush more New Yorkers than ever before, we mobilized more than 100 Disaster and Emergency partners to keep meals flowing across our city. Of the 100 million meals we provided through our emergency response, we've supplied nearly 4 million nutritious meals through these non-traditional partners... all thanks to your support!
PROTECTING FAMILIES
The pandemic was a pressure cooker for the NYC family. The stress of lost income, mounting bills, home-schooling children – all while keeping family members safe from the virus – could be a recipe for broken homes and much worse. So we partnered with agencies supporting families across our city by asking, "how can we work together to amplify our impact?"
The Administration for Children's Services answered, collaborating with us to provide 125,000 meals to food insecure foster families. The Department of Corrections answered, helping us distribute more than 1.1 million meals to the homes of formerly incarcerated New Yorkers. The New York City Housing Authority answered, working with us to host pop-up distributions at their housing developments across all five boroughs.
HELPING CHILDREN
Even before the pandemic, 1 in 5 children across NYC were experiencing hunger. With food insecurity climbing to an all-time high, and access to free school meals still a challenge for many families, we cultivated new partnerships with the Department of Education, The Boys & Girls Clubs, and local after-school programs to ensure wholesome meals made their way to the kids and families who need them. With the help of these partners, we supplied over 3.7 million meals to our NYC children.
Thank you for just doing it...because it always keeps food on our plates.

Lanese Mejia

11-year-old New Yorker & Future Leader
FEEDING SENIORS
With the elderly being at such high-risk for severe COVID-19 complications, we prioritized ways to keep them safe without keeping them from the meals they need. Even before the pandemic, 20 percent of our NYC seniors relied on food pantries and soup kitchens to survive. So, in lieu of our Senior Program at our Community Kitchen and Food Pantry in Harlem, we implemented a daily "seniors-only" pick-up time for to-go meals and pantry bags stocked with nutritious foods. We also partnered with the City of New York to deliver 8,000 meals per month through our Silver Service program, bringing meal boxes right to the doorsteps of homebound seniors.
This time of year especially... the heat goes up, the electric bill goes up... it helps a great deal not to have to spend money on the grocery bill.

Mae McPhail

Brooklyn Resident, 85-years-young
RE-IMAGINING OUR MOST VITAL PROGRAMS
Along with providing support for our network, Food Bank also pivoted our internal operations – from our warehouse to our Financial Services Center to our Community Kitchen and Food Pantry – to ensure the services our neighbors rely on were safely available. And not just food distribution... with your help, our income support programs were a lifeline for New Yorkers hardest hit in this most challenging time.
PRIORITIZING SNAP
Formerly called food stamps, SNAP (Supplemental Nutrition Assistance Program) benefits go farther in fighting food insecurity than the work of a charity alone ever could. Connecting food-insecure households to SNAP is the best way to keep families off the pantry line. In fact, one completed SNAP application is equivalent to one full pallet of food from Food Bank's warehouse – averaging nearly $4,000 in food benefits for a household over 12 months.
But SNAP not only transforms lives, it transforms communities. When a struggling family accesses SNAP, that frees up cash in their budget for other essentials – like childcare, utility payments, rent, and transportation costs. When SNAP dollars are spent at the local grocery store, that store is able to use it to cover operating costs, like paying employees – who then have income to invest back into the local economy.
Every $1 of SNAP spent in NYC has a multiplier effect that adds roughly $1.54 back into the local economy.
When COVID hit, your support enabled us to quickly shift our in-person operations to a fully-remote SNAP call center. At the height of the pandemic, our call volume reached 600% of our pre-COVID capacity. So we added and trained more staff to efficiently receive and route more calls. Since March 2020, we have responded to more than 10,000 calls, connecting struggling New Yorkers to the resources they need to stay afloat.
SNAP creates a cycle of cash flow, stability and survival for our neighbors in greatest need. When you support Food Bank, you power our ability to get this crucial benefit to more families and uplift more communities. For that, we thank you!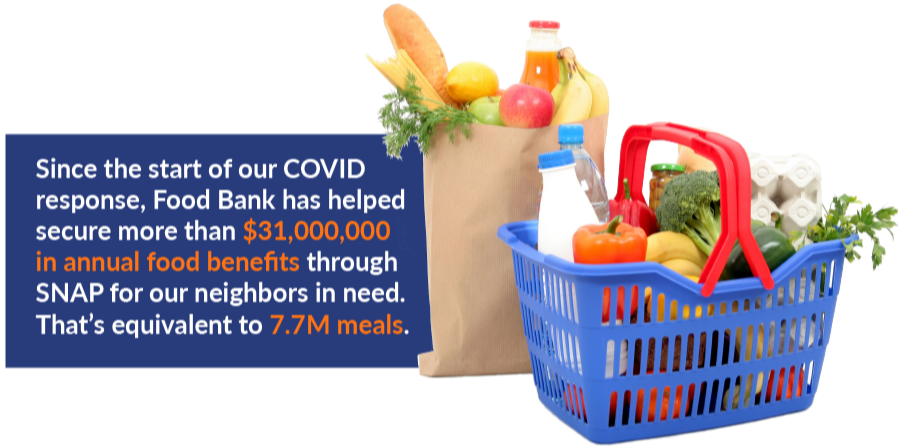 A NEW TAKE ON TAX FILING
For nearly 20 years, Food Bank's free tax filing program has been one of our most impactful services. Powered by hundreds of IRS-certified volunteers (whom we recruit and train), we partner with community-based organizations across the city to provide millions of dollars in tax refunds to tens of thousands of NYC families each year. For low-income New Yorkers, accessing our dependable, high-quality tax service for free means one less worry among a sea of competing bills. Each tax season, your support enables us to connect families to critical refunds that help lift some households above the poverty line.
Friends like you helped fuel our tax operations when New Yorkers needed it most.
During the pandemic, a person's eligibility to access the Economic Impact Payments (aka Stimulus checks) from the Federal COVID Relief bill was largely determined by their most recently filed tax return. For New Yorkers living in poverty – or recently unemployed and strapped for cash – filing an updated tax return became an even more pressing need. That's where our supporters stepped in. They provided the funding we needed to pilot a brand new and fully contact-free Virtual tax filing solution. With a quick video call and secure upload of tax documents via smartphone, tablet or computer, clients can rest assured that their tax credits and refunds are on the way.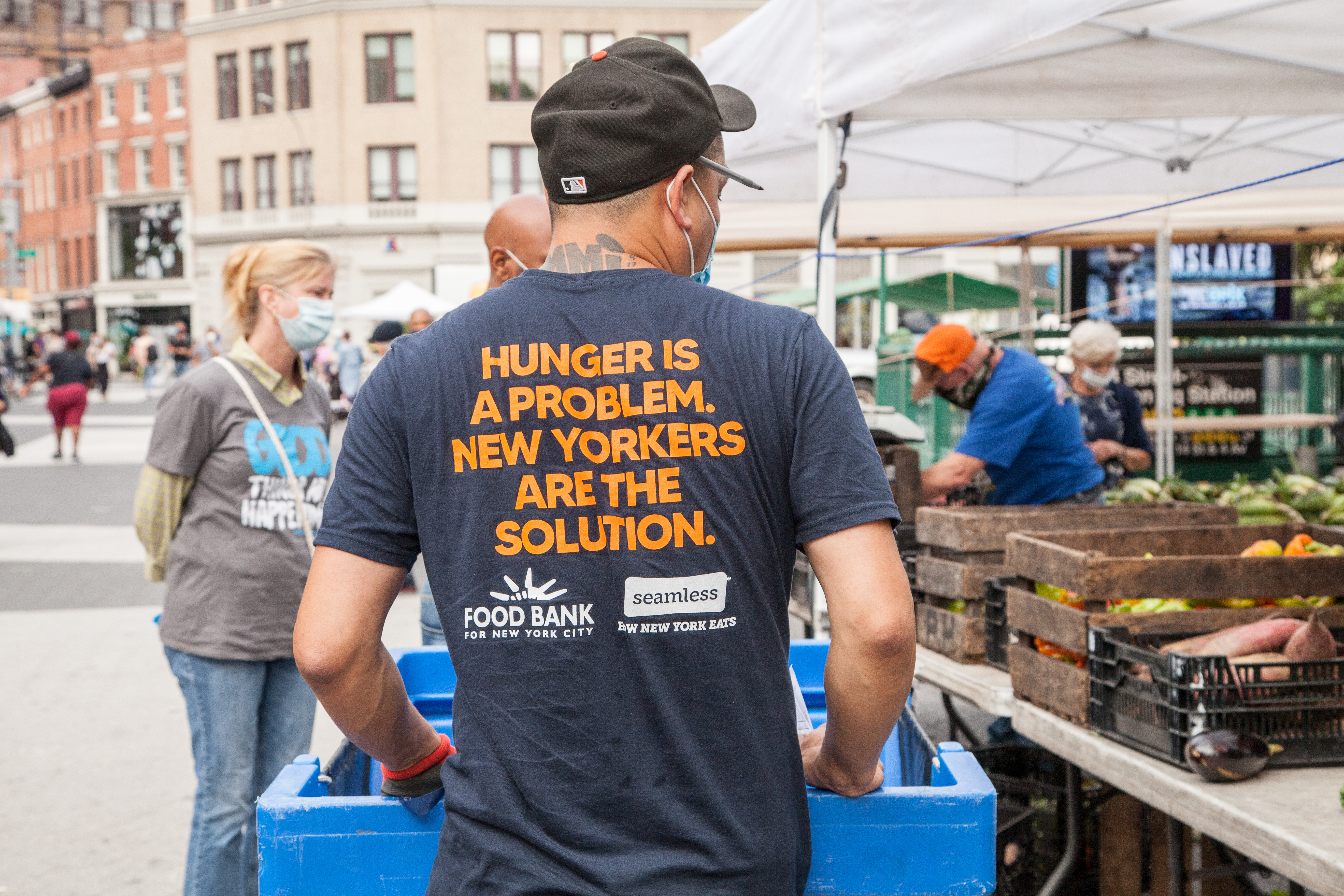 We also made sure there was an option available for those who prefer in-person support or don't have access to the technology needed to file remotely. Your support helped us enhance our existing Virtual Tax filing model, where filers can reclaim their time by dropping off their tax documents – to be filed by our preparers in a socially-distant setting – and be notified once filing is complete. We built desk partitions, provided PPE and increased on-going site sanitation so our staff, volunteer preparers and clients can continue this hybrid service safely. More filing options means more New Yorkers get access to the funds they need to financially cope with this ongoing crisis.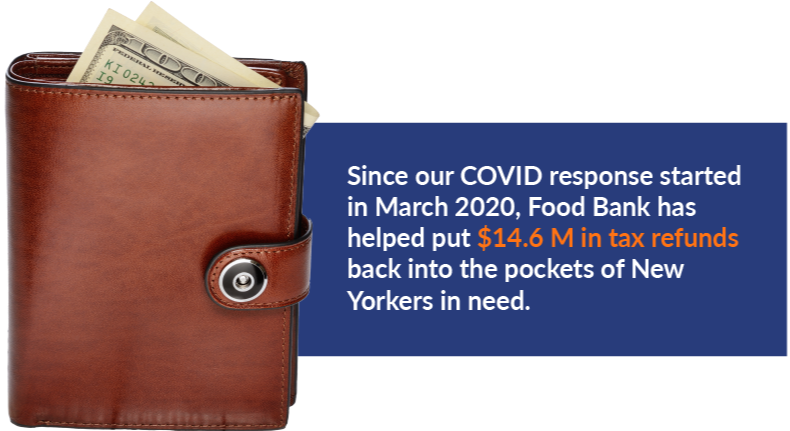 Tax filing options are critical to navigating the economic fallout of the pandemic. On average, the tax clients we serve receive about $1,800 in tax refunds, compared to the $1,400 Economic Impact Payments. And, like SNAP benefits, tax refunds have a similar multiplier effect: every $1 of every tax refund produces $1.54 of economic activity in NYC.
Keeping Meals Flowing in Harlem
One of the hardest turns of the pandemic came in mid-April of 2020, when State and CDC directives forced us to suspend the senior program and all congregate meals at our Community Kitchen and Food Pantry in Harlem. Before the pandemic, our Kitchen served nearly 100,000 free meals each month – a well-oiled machine planted in the poorest community of our wealthiest borough. We had just opened up Saturday pantry hours and launched the Supper Klub – the first and only soup kitchen for NYC kids and families – when COVID-19 struck.
Shutting our doors was never an option. So with the help of our friends at World Central Kitchen, we launched a "to-go" meal program to provide five days of food security per visit for anyone who needs it – from single moms to struggling seniors to everyday New Yorkers just down on their luck. Each of those meals is one less worry for our neighbors who need us most.
Thank you for helping us help them!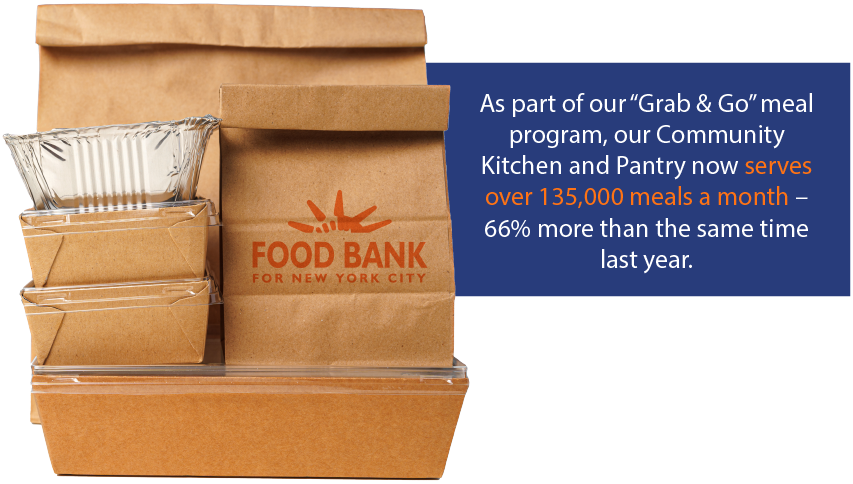 A New Volunteer Vision
Faced with the challenges of COVID-19, Food Bank launched new and creative service models to ensure our volunteers could continue to contribute safely and impactfully to Food Bank's mission.
In March 2020, Food Bank temporarily suspended many of our traditional onsite volunteer opportunities to protect the safety of our staff, clients, and volunteers. We successfully pivoted to secure special support from several emergency service partners – including Team Rubicon at our Warehouse, Repair the World's "Serve the Moment" Corps Members at our Community Kitchen, and New York Cares (in association with the city's COVID-19 Volunteer Coordination Taskforce) at food distributions on the ground.
We even expanded our volunteer base beyond NYC, connecting with hundreds of new volunteers across the country through five new virtual service opportunities: our Dear New York Program, our Phone Bank Program, our Virtual VITA Program, our Social Media Ambassador Program, and our Virtual Days of Service. These new models allowed us to welcome anyone – from corporate partners and celebrities to students and families with young children – to participate with us.
More than 4,100 volunteers from all across the country donated 20,000 service hours to our mission in support of our COVID-19 response efforts!
With your support, we...
Here are more of the events, impacts, and initiatives that your support helped us launch.
We Can't Turn Back Now
Your support during the pandemic helped us distribute more meals in a single year than ever before. That's one large step for Food Bank, one giant leap for the fight to end hunger in our city. Your generosity brought us this far, and we cannot scale back now – not with so many of our neighbors still in need. 1.6 million New Yorkers will now face food insecurity because of COVID-19, a record high for NYC. Your ongoing support will keep our new programs running and ensure our innovations can continue.
Thank you for standing up – and standing with us – against hunger.
I volunteer with my daughters because ending hunger is a priority for us. It's been an honor to work with and for our fellow New Yorkers. I feel humbled by the work Food Bank does – they are on the frontlines everyday because our New Yorkers are worth it.

Kelly Bensimon

Food Bank Celebrity Ambassador and Proud Mom
All thanks to you
The generosity, passion and commitment of our donor community is undeniable. Whether funding a specific area of need, like our Income Support programs or Campus Pantries, or investing in Food Bank's work as a whole, the impact of your contributions is felt in nearly every community across our five boroughs. Thank you for the foundation of support you provide. Your partnership is leading us forward in the fight to end hunger for all New Yorkers.
RECOGNIZING OUR MISSION PARTNERS

Bank of America, who has been a staunch advocate of our mission for more than 15 years, donated more than $500,000 in support of food distribution initiatives throughout the five boroughs.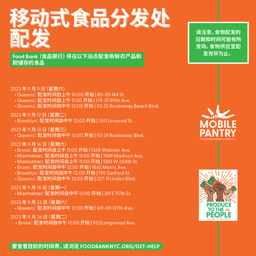 In April 2020, as the toll of the pandemic grew across NYC, Citi stepped in to help us combat food insecurity with a $610,000 contribution – a gift championed by the employees at their Greenwich Street office.

Owl Rock Capital joined our supporter community in April 2020, eager to help our mission support our hurting city. Their donations, totaling $1 million, have helped us get more food to more New Yorkers than ever before.

Peloton has joined our supporter community with powerhouse fundraising campaigns in support of our pandemic response. Since March 2020, their virtual riding competitions have raised nearly $1 million.

United Health Foundation donated $500,000 to support the purchase of healthy food items and to help power our distribution efforts at schools, healthcare facilities, and New York City Housing Authority locations.

World Central Kitchen partnered with us in April 2020 to help launch the "grab and go" meal program at our Community Kitchen and Pantry in Harlem. Their support provided 91,000 meals to more than 26,000 households.
OUR FINANCIAL POSITION
Food Bank For New York City is an independent, nonprofit 501(c)3 organization and a proud member of Feeding America. Our comprehensive approach to fighting hunger tackles food insecurity as a symptom of poverty and develops solutions to address both. We show our gratitude for every gift of time, talent, and treasure to our mission by committing to a practice of transparency and excellence in stewardship.
I needed to find who in my city is doing a really good job delivering food to hungry people. Who are the people really making a difference... because we need to help them. I found Food Bank For New York City... and I saw the best of what New York has to offer.

Francine LeFrak

Founder, Francine A. LeFrak Foundation
leadership... in all Forms
We pride ourselves on the diversity of skill, talent, and background that every Food Banker brings to our mission. Every member of our team is leading the fight to end hunger in their own way and we're grateful for the tenacity they bring to their roles. Learn more below about the partners working in lockstep with us, using their platforms to see our city free from hunger.
FIND YOURSELF IN OUR MISSION
Get in touch with us today.