2021 Annual Impact Report
It's Amazing What Partnership Can Do
Friends, it is my pleasure to greet you with news of yet another momentous year in our mission. The moment we're in now is the future we couldn't have fathomed just one year ago, as the pandemic proved more persistent and uncertain than we ever imagined. And yet, with your support, in the face of both new and existing challenges, we doubled down on our singular mission: FEED ALL.
In my nearly two decades of fighting for New Yorkers facing hunger, I've learned that when the future's uncertain, we pave our path by walking it. In 2021, that meant taking bold steps toward new innovations like equipping our truck fleet to deploy a Mobile Pantry program feeding 300 families per stop at dozens of sites across our city. It meant putting fresh ideas to work fast when our neighbors' lives were on the line – like launching virtual, contact-free, and outdoor iterations of our traditional programming to keep meals on the table for every New Yorker. We enrolled moms on SNAP* so their limited cash could keep diapers stocked at home. We assisted seniors in filing tax returns so refunds could help overcome the hurdles of high utility costs. We trained our member pantries to conduct financial coaching workshops so their clients leave the line with both "a fish" and a fishing rod. And in 2021, we safely distributed more than 121 million meals – more than we ever have in a single year. The pandemic may have been unflinching. But, together, so are we.
Thank you for every single meal, program and service you've helped us provide to our fellow New Yorkers. In lockstep, we've unleashed solutions that I'm proud to share in this report. And I'm grateful that the path we leave behind leads to a future free from food insecurity for more of our neighbors than ever before.
Yours in partnership,

Leslie Gordon
President & CEO

THIS IS OUR CITY. AND OUR STORY.
For Food Bank, 2021 was a year of innovation. As food prices, rent, and unemployment soared, strategies we deployed at the height of COVID-19 were put to the test... and proved their mettle. With donors beside us, we provided more meals in a single year than ever before. We developed new partnerships and programs. We made historic investments into our community. What we did worked, and it worked because of you.
Your generosity empowered us to think beyond what we knew so that we could do what we must.
call for powerful measures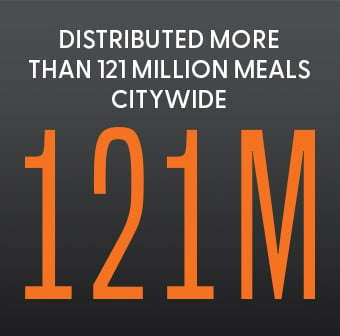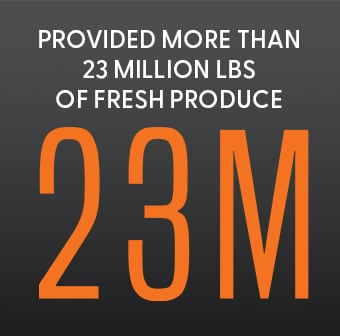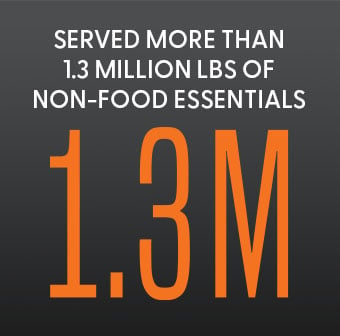 KEY COVID RESPONSE STRATEGIES
As COVID-19 continued to surge in waves across our city throughout 2021, we kept a tight focus on our neighbors, activating new ways to get food and other resources directly to the communities that needed us most.
$14M INVESTMENT UPDATE
At the height of the pandemic, your support enabled Food Bank to make a historic $14 million investment into our member network of more than 800 food pantries, soup kitchens, schools, and shelters across the five boroughs. Making the decision to invest so robustly in our network was paramount to our success.
Our member agencies are the ones who – time and time again – keep their doors open in the face of insurmountable challenges. They never stop asking the question: What more can we do for our communities?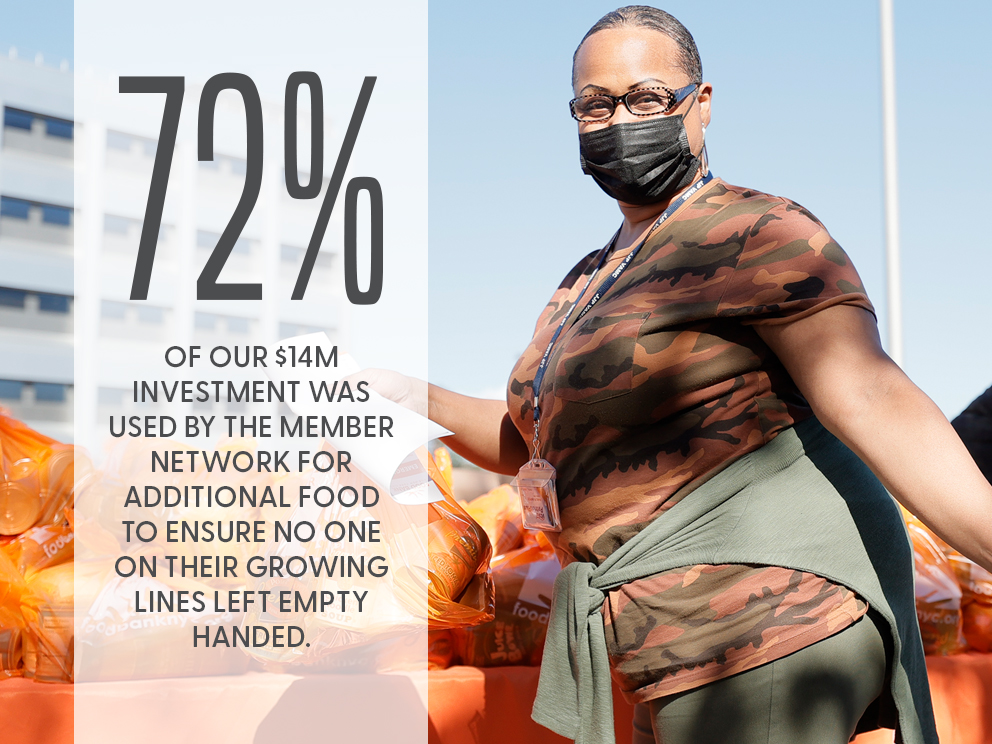 And with this investment, they've proven just how much more they can do. Food grants helped our members secure culturally relevant food items for their neighbors, from produce like bok choy and yuca to a variety of halal and kosher options. Capacity grants enabled these community-based organizations to hire help and cover utility costs to increase their hours. And capital grants bolstered operations with new freezers, forklifts, hand trucks, refrigerators, walkie talkies, and more. Put simply, this money powered our network like never before, helping our partners FEED ALL with confidence, compassion, and ingenuity. Food Bank is the heart of this mission and our members are the beat, moving and responding to the rhythms of an ever-changing NYC.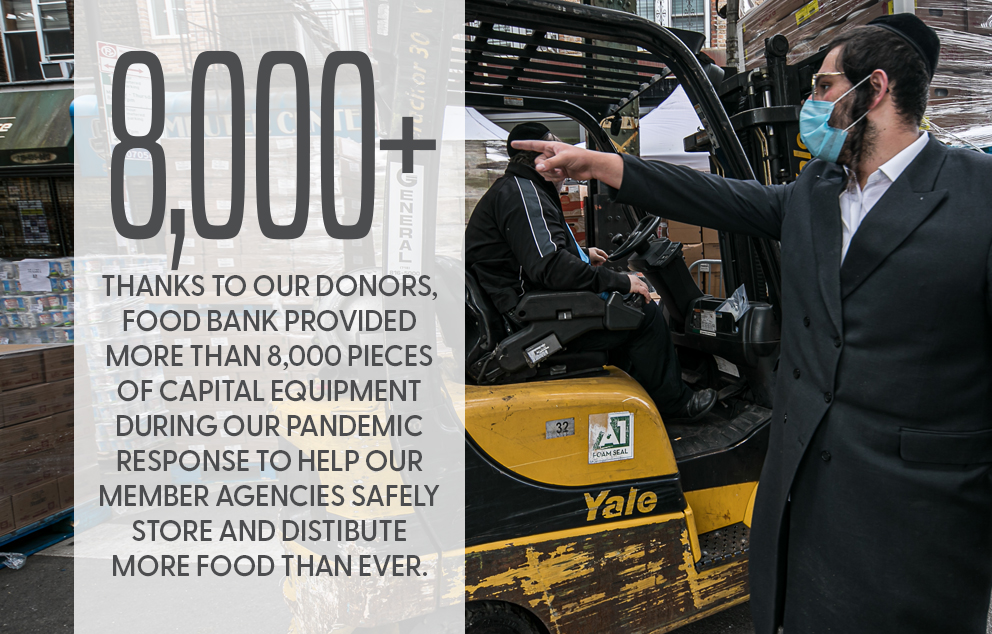 ---
ONE YEAR LATER: PEDRO SHARES HOPE
Last year, we introduced you to Pedro Rodriguez, who leads La Jornada Food Pantry in Flushing, Queens. Pedro shared the anguish he and his staff faced as they served pantry lines over a mile long at the height of the pandemic. Thankfully, donor support helped us provide La Jornada with more food and a new forklift to safely distribute it. Since then, Pedro's team has implemented new Food Bank programs like Nutrition Education and Financial Coaching to help shorten their pantry lines and share hope with the families they proudly serve.
See where Pedro and the La Jornada team are today in the video below.
In the best and worst times, New Yorkers help each other… And thanks to you, people are learning how to change their lives.

Pedro Rodriguez

La Jornada Pantry Director
MOBILE PANTRY PROGRAM LAUNCH
In 2021, we put our mission "on wheels" by introducing Food Bank's first-ever Mobile Pantry program. Each week, our Mobile Pantries zoom across the five boroughs, delivering food and other resources directly to our neighbors. To maximize our impact, we partner with organizations on the ground to develop unique Mobile Pantry offerings catered to the specific needs of their community members. Our distribution in Ozone Park, Queens, for example, serves a large Bengali population, so we prioritize providing culturally relevant items like halal chicken, turmeric powder, and soy sauce. By delivering food our neighbors can easily incorporate into their diets, we serve them with the dignity they deserve.
POP-UP DISTRIBUTIONS
Mere months after enacting our emergency COVID response in March 2020, we launched a series of largescale pop-up food distributions at iconic NYC sites like Lincoln Center in Manhattan and Barclays Center in Brooklyn. These distributions served thousands of households and ensured our neighbors traveled shorter distances to secure fresh, nutritious food.
In 2021, we established new distributions, including a monthly pop-up at Yankee Stadium, where we reach hundreds of families in the South Bronx – one of NYC's most food insecure neighborhoods.
---
ONE YEAR LATER: A NYC FAMILY FIGHTS ON
When we first met Lanese Lewis and her mom Tynicole, they were finding help at one of our pantries on the Lower East Side. With schools closed and Tynicole's work hours cut to focus on her daughter's remote learning, money for food quickly shrank as bills like rent and utilities piled high. While the pantry provided meals and a sense of community, the impacts of the pandemic lingered on for this small NYC family. Watch below as we check in with Tynicole and Lanese one year later to see how they're navigating the ongoing challenges of our recovering City, and why your ongoing support is so immensely critical for New Yorkers like them.
It's not over yet. It's gonna impact everybody for a long time to come. Everything's gone up so high… it's really a struggle to survive.

Tynicole Mejia

Manhattan Mom
GOING BEYOND THE PANTRY LINE
Our work to feed all New Yorkers may start on the pantry line, but that's hardly where it ends. We not only provide our neighbors with the food they need for today, but also the resources and skills they need to achieve food security into tomorrow and beyond.
RETURNING SOMETHING GREATER
For many New Yorkers, a tax return may be the single largest lump sum of money they receive all year. A tax refund can pay rent, buy groceries, or cover essentials like school supplies. However, filing taxes can be prohibitively expensive and time-consuming for many of the working families we serve.
To help secure these vital funds, Food Bank provides FREE, secure, high-quality tax filing assistance to eligible New Yorkers, saving them hundreds in filing fees in addition to the tax credits and refunds they're often eligible to receive. Since launching 20 years ago, our tax program has put over $1.3 billion in refunds and credits back into the pockets of everyday New Yorkers. In 2021 alone, our team of IRS-certified volunteers prepared more than 17,500 returns, yielding over $30 million in refunds for our neighbors all across the city. We also helped filers save an estimated $7.8 million in tax preparation fees, resulting in a total economic impact of nearly $47.5 million!
This is real money for real people, not just figures in a statistic. It's money for the single mom who needs to buy new clothes for her kids. It's money for the home-bound senior struggling to put food on the table. More than anything, it's money that opens up a world of choice for our neighbors – a privilege so often taken for granted.
THE POWER OF CULTURALLY RELEVANT FOOD
At Food Bank, we see the immense diversity of New York City reflected back to us on our pantry line each day. It's a beautiful reminder that there is no "one-size-fits-all" solution to fighting hunger. Serving our neighbors starts with listening – what kinds of produce do they want? What kinds of grains, proteins, and snacks will not only help nourish their bodies, but affirm their beliefs, creeds, and identities? Providing culturally relevant foods (like halal and kosher products for Muslim and Jewish communities) allows us to meet the unique needs of the diverse mix of New Yorkers we proudly serve.
They have to choose between paying the rent or putting food on the table... Our [pantry bags] provide nearly $30 of fresh produce. Without your generosity, none of this would be possible.

Dr. Jahangir Kabir

MUNA, Brooklyn
WHEN FREE IS PRICELESS
Something people are often surprised to learn is that most of the New Yorkers we serve have jobs or some form of employment. In fact, many of them work multiple jobs to put food on the table, make rent, pay utilities, cover commuter costs, and support family members who can't work. They are pulled in a thousand different financial directions every day, a balancing act that would be difficult for anyone to maintain – especially in a city as expensive as ours. Food insecurity, then, is as much about navigating these competing factors as it is about food itself, which is why our Food & Finances program is more critical than ever before.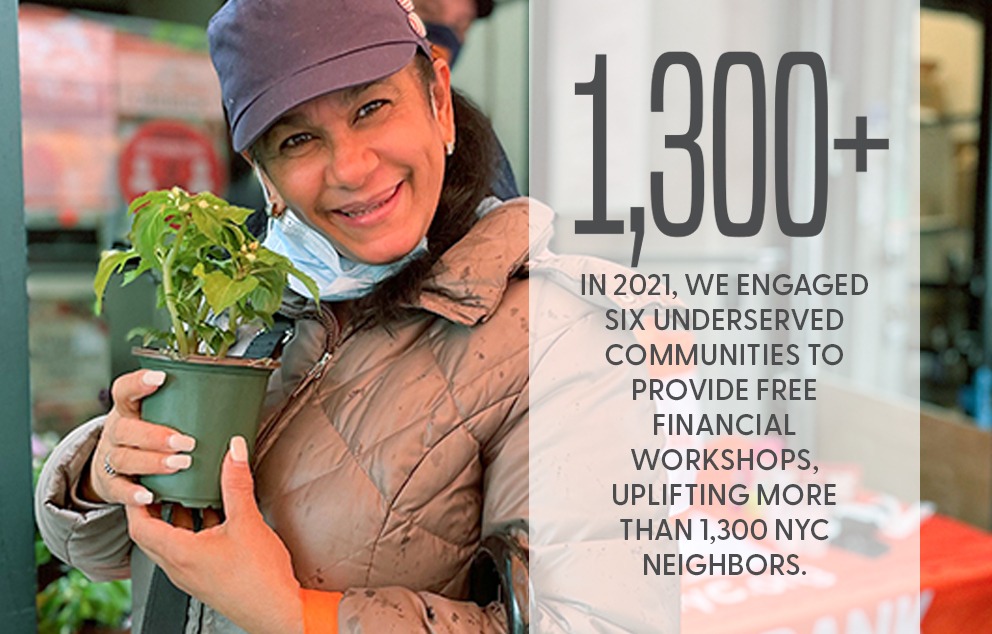 The program provides FREE financial coaching in our most under-invested communities throughout the year. We train partnering sites to identify eligible SNAP and tax clients and conduct financial education workshops covering topics from establishing credit to reducing debt. By combining financial coaching with other benefits like emergency food, SNAP enrollment, and free tax prep, this program helps our neighbors better manage newly acquired financial resources. We may not be able to fix the rising costs of food and housing in NYC, but we can equip our clients and member agencies with the skills they need to manage budgets, reduce debt, establish credit, and save for the future.
Everyone deserves to feel in control of their finances, and we're proud to offer an array of workshops and training sessions that empower our neighbors to achieve just that.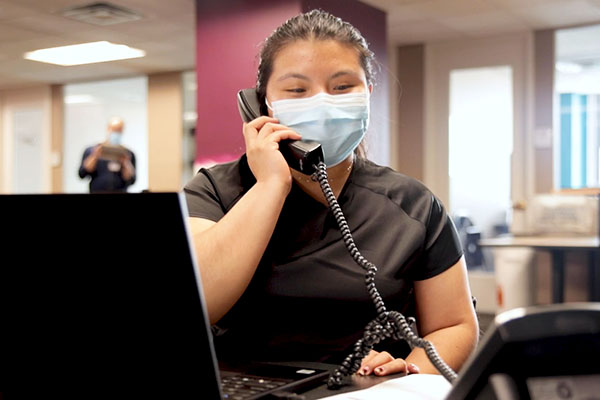 NOT JUST THE "WHAT," BUT ALSO THE "HOW AND WHY"
Whether we're hosting a live-cooking demonstration with our friends at the Council of Peoples Organization in Brooklyn or leading a nutrition workshop at Iris House (a Food Bank member pantry in the Bronx serving individuals living with HIV), our work to educate New Yorkers about the power of nutrition is at the heart of everything we do. When we teach someone how to transform the fresh produce and shelf-stable goods we provide into delicious and nutritious meals for themselves and their families, we help them unlock a skill they can use for a lifetime and share with future generations.
WITH YOUR SUPPORT, WE...
Here are more of the events, impacts, and initiatives that your support helped us launch.
HOW TO GET INSPIRED: Meet Alexander
Alexander Mark is a member of Food Bank's Junior Board who came to us as a new donor during the pandemic. As images of his fellow New Yorkers filling pantry lines flooded the headlines, he found himself looking for ways to put his love for NYC into action. He's been a loyal monthly donor and anti-hunger champion ever since. Check out his story to see not just how, but why, he chooses to serve with us.
I think about everything I've gotten from my 10 years in NYC… it's important that I'm not just taking from the City, but also giving back.

Alexander Mark

Food Bank's Junior Board and Proud Donor
ALL THANKS TO YOU
The generosity, passion, and commitment of our donor community is undeniable. Whether funding a specific area of need, including our Income Support programs or Mobile Pantries, or investing in Food Bank's work as a whole, the impact of your contributions is felt in nearly every community across our five boroughs. Thank you for the foundation of support you provide. Your partnership leads us forward in the fight to end food insecurity for all New Yorkers.
RECOGNIZING OUR MISSION PARTNERS

Bank of America has been a leading partner and staunch advocate of Food Bank's mission for more than 16 years. Since the start of the pandemic, they have donated nearly $2 million in support of food distribution and anti-hunger initiatives across the five boroughs.

Grubhub's Donate the Change program supports organizations and delivery partners fighting food insecurity. Their partnership, including sponsorship of Food Bank's 2021 Hunger Action Month campaign, helped power our pop-up distributions during the pandemic.

The Judith L. Chiara Charitable Fund's profound generosity is guided by their commitment to philanthropy and improving lives. Their support provided critical assistance to our member network to serve the growing need for food during the pandemic.

Robin Hood Foundation's generous partnership has enabled Food Bank to distribute more food throughout the pandemic, and has helped to ensure our economic empowerment programming could continue for our neighbors in need during this critical time.
The Anahata Foundation is committed to helping the vulnerable thrive by partnering with organizations like Food Bank, fighting food insecurity on the front lines. Their support helped us provide a record number of meals during the pandemic.
We're incredibly grateful and proud to recognize all of our corporate and foundation partners whose generous support made this year's impact possible.
WE CAN'T TURN BACK NOW
Your support during the pandemic helped us distribute more meals in a single year than ever before. That's one large step for Food Bank, one giant leap for the fight to end hunger in our city. Your generosity brought us this far, and we cannot scale back now – not with so many of our neighbors still in need. 1.6 million New Yorkers will now face food insecurity because of COVID-19, a record high for NYC. Your ongoing support will keep our new programs running and ensure our innovations can continue.
Thank you for standing up – and standing with us – against hunger.
OUR FINANCIAL POSITION
Food Bank For New York City is an independent, nonprofit 501(c)3 organization and a proud member of Feeding America. Our comprehensive approach to fighting hunger tackles food insecurity as a symptom of poverty and develops solutions to address both. We show our gratitude for every gift of time, talent, and treasure to our mission by committing to a practice of transparency and excellence in stewardship.
---
HOW TO STAY MOTIVATED: MEET REVEREND HENRY BELIN
Reverend Henry Belin of Bethel AME Church in Harlem has been a proud member of Food Bank's Board of Directors for more than 17 years. In that time, he's helped guide our mission to grow, flex, and adapt to the best and worst we've seen in our city. The pandemic was no different, and neither was his commitment. Check out Rev. Belin's story to see what keeps him in the fight and why our mission is stronger for it.
It's exciting to see how people really care about one another... It's not about what I can do for myself, but what I can do for someone else.

Rev. Henry Belin

Bethel AME Church and Food Bank Board Member
---
FIND YOURSELF IN OUR MISSION
Get in touch with us today.